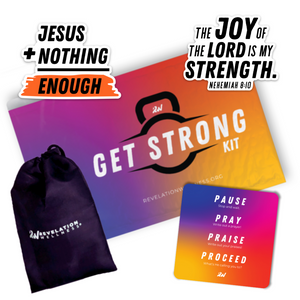 Get Strong Program Kit
Our Get Strong Kit is designed exclusively for our Get Strong program participants. This kit contains an exclusive assortment of gear and materials to enhance your Get Strong experience.
*Limited Edition* A limited number of kits are available. Don't miss out, order yours today!
Shop Now
Shop Our Exclusive Book Bundles
---
Where you shop matters!
All profit from the Revelation Wellness ® Store is reinvested in the ministry to further our mission of helping people love God, get healthy, be whole and love others.